Raven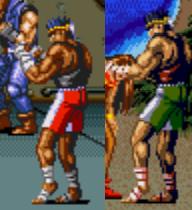 Raven is a highly skilled kickboxer. He can block, as well as kick singly or in combination. First seen in Streets Of Rage 2. He is a close range fighter, so once you are close to him he will lunge and attack you. Jumping too close won't do any good since he strike you with a kick in the air. He also grabs and knees you if he gets a hold of you.
They are named after birds: pheasant, bantam, galuda, etc
MOVES
•Blocking

•Air Jumping

•Grabbing and kicking
Ad blocker interference detected!
Wikia is a free-to-use site that makes money from advertising. We have a modified experience for viewers using ad blockers

Wikia is not accessible if you've made further modifications. Remove the custom ad blocker rule(s) and the page will load as expected.